생체전자기장 분석 기술 및 다양한 생체전자기 기기의 설계
한양대학교 계산신경공학연구실에서는 다양한 생체전자기 현상들을 해석하고 모델링하기 위한 기법들을 연구하고 있으며 이에 적합한 응용 분야들을 꾸준히 탐색하고 있다. 아래에 나열된 사례들은 본 연구실에서 수행하고 있는 생체전자기장의 해석에 관련된 결과들로서 이 분석 결과를 기반으로 하여 다양한 생체전자기 기기(bioelectromagnetic devices)들의 설계를 수행하고 있다.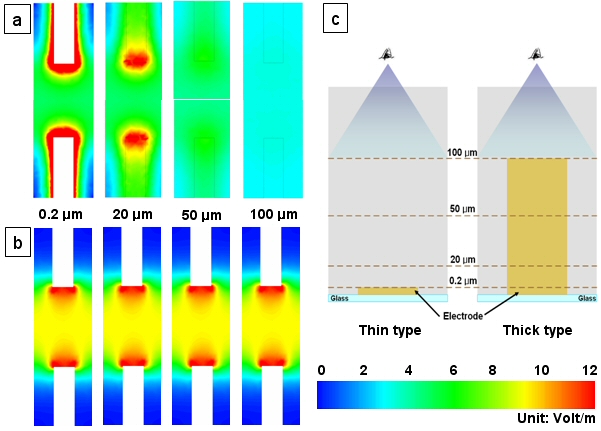 <3D Electric Field Analysis of a Cell Fusion Electrode System (Ju et al., 2009)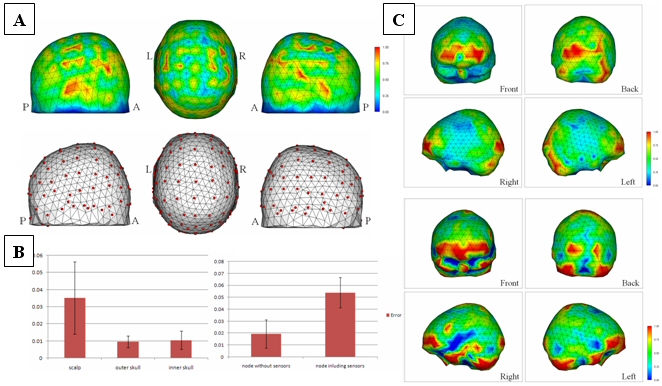 <Effect of BEM Modeling Error on the Bioelectromagnetic Field Computation Accuracy (Kim et al., 2009)

<Analysis and Design of Nano-positioning Actuator for High-Precision Microscopy System (Roh et al., 2009)>
References
- Jongil Ju, Jung-Moon Ko, Hyeon-Cheol Cha, Joong Yull Park, Chang-Hwan Im, and Sang-Hoon Lee, "An electrofusion chip with a cell delivery system driven by surface tension," Journal of Micromechanics and Microengineering, vol. 19, pp. 015004(10pp), 2009.
- Do-Won Kim, Young-Jin Jung, Chang-Hwan Im, "Influence of Modeling Errors in the Boundary Element Analysis of EEG Forward Problems upon the Solution Accuracy," Journal of Biomedical Engineering Research, vol. 30, no. 1, pp. 10-17, 2009.
- Jong Seok Rho, Chang Hwan Lee, Tae-Kyung Chung, Chang-Hwan Im, and Hyun Kyo Jung, "Analysis of a Nano Positioning Actuator Using Numerical and Analytic Methods," Smart Materials and Structures, vol. 17, pp. 025025(9pp), 2008.